Sisijoke.com – Wood flooring in a kitchen can be a great option if you're looking to give your kitchen a natural look. Not only does wood add texture and aesthetic value, but it also allows you to create a cohesive open-plan living space. You can use wood planks in a herringbone or chevron pattern for a geometric look.
Adding Character and Charm to the Kitchen Floor
When choosing a wood floor for your kitchen, it's important to consider what style you'd like. Smooth wood floors can work well in contemporary and modern settings. However, if you want a more rustic, lived-in look, you might want to choose distressed pine. Distressed pine's fibers are compressed, which gives the wood more density and hardness. It also has an uneven texture, which lends character and charm to a kitchen floor.
Engineered wood floors are also an option. They're more durable than solid wood and can withstand spills that are a common part of life. You can even choose one with a plywood core to ensure stability. Engineered wood planks are also better for uneven subfloors because of their added stability. There are many species of wood available, and each has distinct advantages.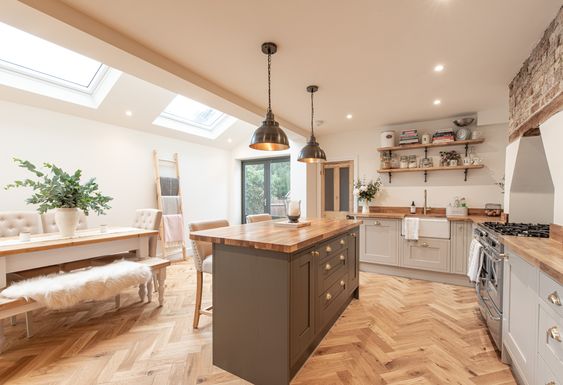 If you have a light-colored kitchen, a light hardwood floor is a great way to emphasize the space. It compliments white counters and marble. A dark-colored center island, meanwhile, adds depth to the space. A rustic, stone-inspired look is also a great choice.
Maintain Kitchen Wood Floors by Caring for It Every Day
You should also consider durability when choosing a wood floor for your kitchen. Since kitchen floors are constantly in contact with heavy traffic, a wood floor must be able to withstand scratches, dents, and scuff marks. However, you can maintain your kitchen's wood floor by taking care of it every day.
A lighter shade of wood flooring adds a lighter tone to the room and offers a cozy, natural look. You can also complement a light-colored wood floor with a lighter wall surface. You can also match a lighter-colored wood floor with timber furnishings and devices. You can also use light-colored hardwood in a kitchen with a stone counter and stacked-stone backsplash. In this way, you can keep the same natural look while still keeping the look and feel of your kitchen.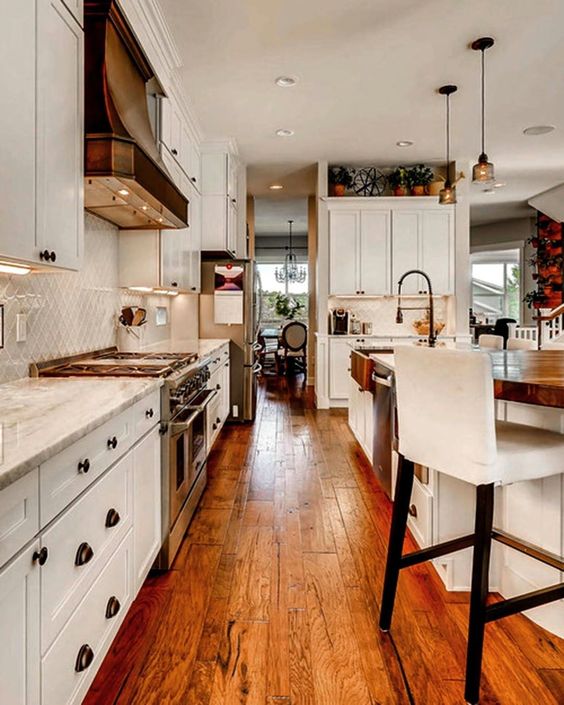 If you have a light wood floor, you can try contrasting it with a darker color for a more modern look. Likewise, a darker color will look great with a darker center island. It also works well with an open floor plan, as it doesn't overpower the space. In addition, it also looks great with traditional designs.
Choosing the Right and Suitable Wood Floor
When choosing a wood floor for a kitchen, think about the color of your cabinetry and other items. If the cabinets are dark, you should choose a complementary wood floor. You shouldn't match them exactly because this may make the room look flat and boring. However, complementary colors will make the room look more cohesive.
A light-colored floor will make the kitchen feel larger and open and combine the dining and kitchen areas. For example, a light-colored wood floor with a dark countertop and furniture in light-colored wood can bring the two areas together. With this color scheme, you can create a homey feel that will add a touch of elegance to the room.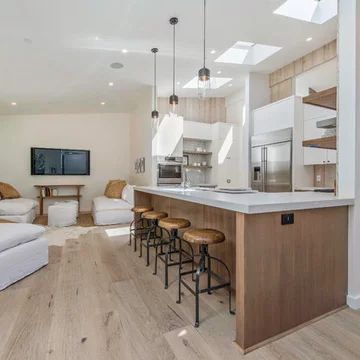 If you want a rustic look for your kitchen, you can add reclaimed wood planks. These are often heartwood and cost between $15 and $30 per square foot. Another great option is engineered hardwood flooring, which is almost indistinguishable from solid wood but has higher resistance to moisture and temperature fluctuations. Finally, if you're on a budget, you can choose wood-look laminate. This type of flooring is easy to clean and gives the look of real hardwood at a more affordable price.