Sisijoke.com – If you love Asian design, you can easily create a unique bedroom using the same style. For starters, make sure to select materials that reflect Asian culture, such as bamboo and wood. Asian bedrooms usually have a lot of wood and bamboo, as well as other materials that evoke the warmth of the region. Colors are also very important when it comes to creating a truly unique space, and there are many ways to incorporate these elements into your bedroom.
Japanese Style Bedroom Design
A Japanese-style bedroom features a wooden four-poster bed with an off-white sheet. The beige walls are lit by warm yellow lights, which originate from the exposed wooden beams in the ceiling. A white tray ceiling is accentuated with wooden accents, while recessed lights on the sides complement the look of a large round bedside table. Windows, on the other hand, brighten the room and lend a welcoming atmosphere.
A contemporary bedroom with an Asian theme is one of the most popular styles to incorporate into a home. It can incorporate subtle Asian accents like a grasscloth wallpaper backdrop and gorgeous Kimono art hanging from the headboard. Other Asian accents include an oriental carpet, pillows, and a ceiling fan. Alternatively, you can opt for a sleek contemporary design, complete with a contemporary style bench or side table. All the elements of a room will seem to blend together, creating a relaxing atmosphere.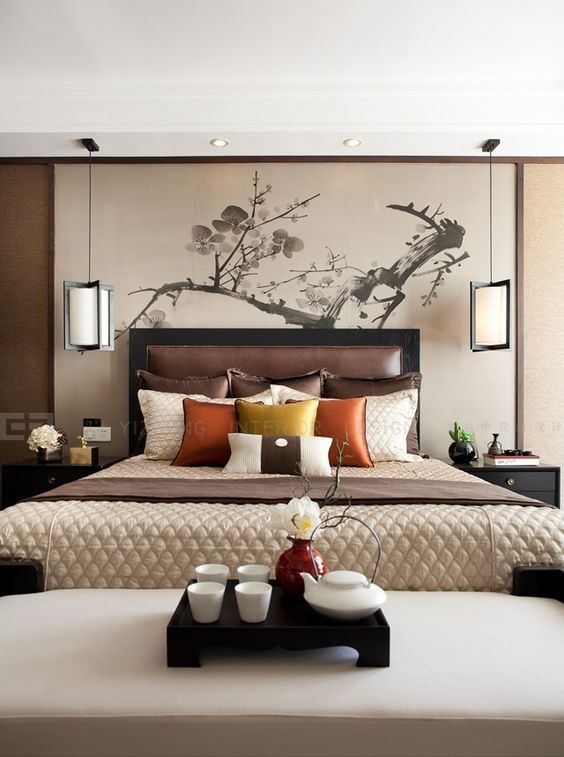 A minimalist Asian bedroom can be an elegant retreat, with a soothing mix of bright orange and warm brown tones. Exposed wood beams and white ceiling tiles also lend an Asian feel. An orange fabric treatment on the headboard sets off the warm brown tones, while the pattern continues on the pillow covers and sofa upholstery. Finally, the bedroom can be completed with an oriental nightstand. There are many different ways to decorate your bedroom to reflect this style.
The First Step When Creating a Traditional Bedroom
If you want to create a traditional Asian bedroom, you should choose furniture made of bamboo or a similar material. Bamboo bedroom furniture, for example, goes well with green bedroom walls. You can also use Asian brown furniture to complement red, black, and white objects. There are even special sets of furniture designed for this theme that are made of bamboo. The main thing is to choose simple yet elegant pieces. A bed should be the center of attention in an Asian bedroom.
An Asian bedroom with a vibrant Indian feel is another great way to decorate a bedroom. Silver tufted cushioned chairs go well with a white wooden platform bed and a dark brown velvet headboard. A salmon pink area rug covers the hardwood flooring and complements the light pink sheets. Finally, a three-part artwork above the bed gives the space an elegant and glamorous look. A great Asian bedroom is an exquisite space to relax and rejuvenate.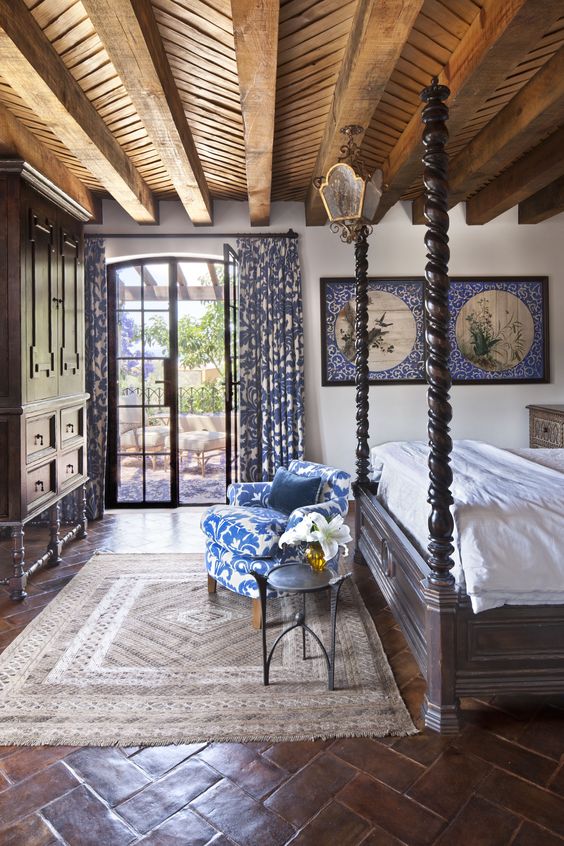 A Japanese bedroom is a modern interpretation of the traditional Japanese bedroom. It is an extremely spacious design and features plenty of natural sunlight. Often, Japanese bedrooms have white walls and white furniture to keep the room feeling spacious. These bedrooms also feature rich purples and plush golden yellows. One of the most important things to consider when designing an Asian bedroom is color. A bright red or fiery yellow wall can make your bedroom look lively and romantic.
Tips for Finding Asian Traditional Bedroom Designs
If you're looking for a traditional Asian bedroom, you can choose from a wide variety of wooden furniture. Traditional wooden frames are often used for Asian wall mirrors. These are usually hand-painted in a solid color, or may feature intricate designs. Asian wall hangings may be patterned with flowers or birds. They're a great way to add color to your bedroom and anchor the theme. And remember to pick complementary colors for the walls.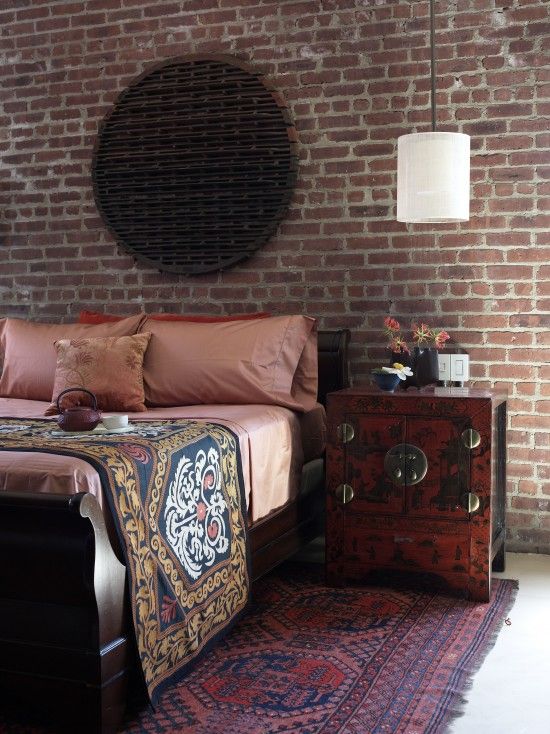 Choosing a bed is a great way to create a traditional Asian bedroom. The bed itself is usually the focal point of the room. It should be comfortable and relaxing for you. It shouldn't be cluttered, either. A beautiful bed should be comfortable. When you're looking for a bed that will give you a peaceful and relaxing atmosphere, an Asian-style bed is the best option. This bed will help you achieve that.